Lindsey + Kyle | Weekend Trip | Cuyahoga Falls, Ohio | Wedding Styled Shoot
I now have an obsession with traveling to AMAZING locations for our shoots!
Like, Cuyahoga Valley National Park, Ohio for example!! OH-EM-GEE!! (Insert Heart Eyes!!)
A few months ago, a friend of mine had posted photos of her standing next to a waterfall.
I thought, "OMG! How GORGEOUS!!!"
I sent her a message and we started talking about her trip, and I felt so inspired!
I started thinking about doing a wedding styled shoot. I pictured a bride and groom right by the falls. In her wedding dress and he in his tux/suit!
Let me tell you (and those who know me would agree) I am not one for patience!
I have to have it NOW! haha
First, thing I did was skip a few steps in the planning process to find models for my shoot!
I remember reading this email, and I loved not only the story but how well written it was:
....and 100% I DO NOT regret choosing them!!!!
They were 100% down. Willing to use her GORGEOUS wedding dress and BONUUUSSS: He bought his suit. I thought in the beginning, when I first posted that I would just have to settle for a nice shirt and tie!! Hashtag: NOPE! (Might have literally happy danced when I found out!)
So....CHECK! Models secure. Let the planning begin!
I quickly put together a book with things listed like:
Florist, Rentals, Bakery, Hair and Makeup...
...but then quickly realized I most likely wouldn't need most of these because we would probably be hiking through the woods, up and down cliffs and hills and there was NO WAY I wanted to carry or go back and forth for all of that!!!! SCRATCH THAT, and I kept it simple...just the dress and suit! I bought a pop up changing tent so we could hike to our spot and they could change into everything there! I think for the most part, it worked well. I love that I will have it for future sessions as well!
Let me just pause and say that I have a new love for HIKING!! OMG!!!
I planned for a two night stay. I wanted to not only get away and have my first official adult vacation, but be well rested and nearby for the shoot. Plus, we had plenty of time to explore beforehand. I decided to ask my good friend, Nick to come with us! Not only to help split the hotel cost, but he is also adventurous and down for a thrill! I gotta say, that I am extremely thankful he came. He helped me get up and down cliffs, over trees, pushed my butt up when needed, my support in risky places, and just an extra hand! Even using his own shirt to wipe down my sweaty face (makeup and all haha...opps!) 'cause it was HOT but also perfect weather!!!
Anyways, last minute I asked Lindsey if her and Kyle would be down to do an engagement/couples shoot while we were there, and of course being the adventurous couple they are....they agreed! We picked outfits and decided to hike Ledges Trail. I wanted to make the absolute best of our time!
Friday August 11th, 2017
I drove down to pickup Nick and we headed to our hotel. 3 hour drive one way
Checked in and literally as soon as we got there we went right out to explore!!
I didn't even care if I wasn't "Hiking Ready" haha
Sandals and all, we went to explore Blue Hen Falls first (which was where my friend Ashley had posted a photo of her standing by the falls, which inspired the entire trip!!) Here is the video of Nick and I exploring. We were totally in awe and it was most definitely something to see!
I'm officially obsessed!
We went Geocaching a little and then picked up some food afterwards for the weekend to grill and what not and headed back to our room for the night! ;)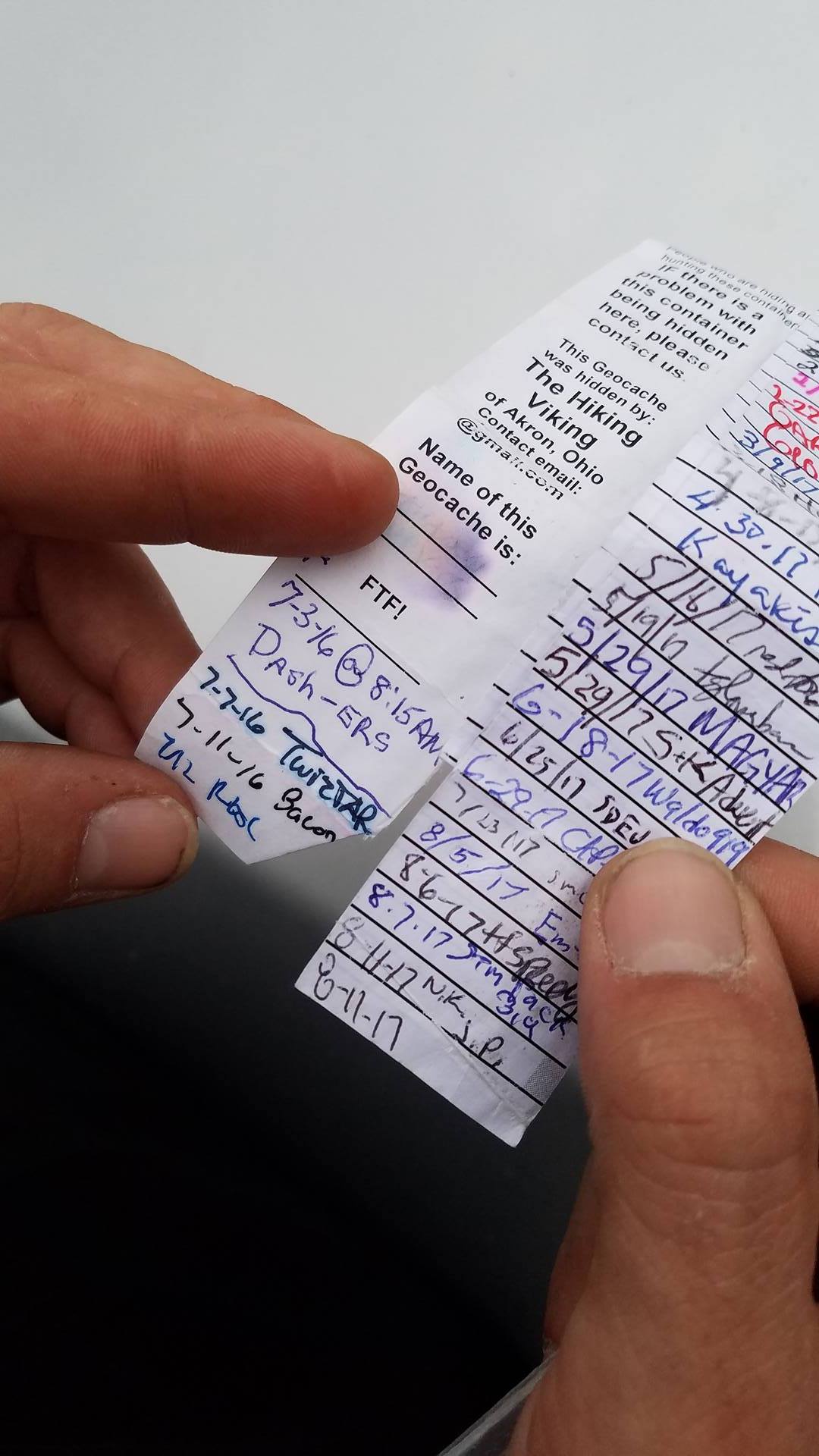 Nick found his first Geocache and wrote both our names.
Opps! I didn't see it when I went to write mine in next HAHA --->
Saturday August 12th, 2017
I woke up at 7am. I tossed and I turned but I was excited, nervous and ready for the day!
I tried waking Nick up, but PFFT.....he wasn't having it! haha Until, 2 hours later I was like,
"YO! GET UP!"
The night before I had showed him a YouTube video I found of this one guy who found a "secret waterfall" so of course we wanted to go and find it! We watched as we explored every step of the way and eventually found Twin Sister Falls. Here is a LIVE video from my page of us exploring:
Nick threw in some AWESOME ideas and I was inspired to bring my couple here, and we did!! We had to leave (when we didn't want too because it was absolutely gorgeous!) but I made a time commitment to meet Lindsey and Kyle at 1:30 at the Ledges Trail to do our "Engagement/Couples" Shoot! We hiked our way back, drove to the hotel, shoved some food in our face, and headed back out.
Waiting by my car, gearing up, I hear
"Julie?"
and I turn around (with a surprised look like what the...)
and its Lindsey in her beautiful dress! She's so young and beautiful, and I'm over here with no makeup. haha. Visiting Blue Hen Falls the night before, climbing up the falls got Nick and I a little wet....which naturally made all my mascara run down my face....so I swore off mascara for the whole day, Saturday!! This video is where we stood: he's such a daredevil...and I followed! #noregrets ;)
After all introductions and hugs were given we decided to start our hike. Small chit chat, laughs, and stories were shared. Ledges Trail was BEYOND words, just absolutely gorgeous! Each time we turned a corner, it was like a scene from some fantasy movie. Corners to hide away in, intimate spaces to share kisses, just WOW! Here is a behind the scene shot Nick did for me! I LOVE Behind the scene shots!!! This shows you a little just how beautiful this location is!! I'd totally travel here again for another session!
2 hours later, a bit of sore feet (poor Lindsey in sandals!) and lifetime memories later, our hike was over and I had well over 400 images to go through! I'm so happy and glad we did that!
(SEE ENGAGEMENT/COUPLES SESSION HERE) <--Still Editing!
Nick and I headed back to the hotel, where I met with my good friend Laura Fudge with
Laura Fudge Makeup & Esthetics
and first we did some head shots for her. She totally deserved that and WAY more for driving 3 hours (ONE WAY!) Just to do my brides makeup for us! Afterwards, Lindsey and Kyle met back up with us in our room, and we did Lindsey's makeup. I could tell Lindsey was excited to meet with Laura. She looked so inspired and like she wanted to ask Laura so many questions. I'm so happy I introduced them! 6pm quickly rolled around and we were running out of daylight and fast!
We all drove to the parking lot by the train station, and hiked our way back towards Twin Sister Falls. When Nick and I first had gone there, we had to hike along side a VERY steep mountain hill, but on our way back found an easier shortcut to avoid all that, and I was thankful since I knew Lindsey and Kyle would be carrying a dress/suit and Nick the changing tent! Our hike down the creek seemed shorter, but I think it was because Nick and I stopped so many times the first time to explore, take photos and videos, and carve initials into tree stumps!
The entire hike there, our flower enthusiast (or part time hobbyist!!) Lindsey, was picking flowers along the way to fill out her bouquet. Friday night they had attended a wedding in Grand Rapids and then drove the 5'ish hours straight to their Air bnb near Cuyahoga! They arrived around 4:30am! That totally surprised me! Such troopers, I swear! At this wedding they were able to take some flowers with them, but by the time we were ready to use them, they looked a little sad...so we had to fill them out! Picking wild flowers and ferns, and to be honest...it turned out pretty nice! I gotta say, Lindsey has some talent for knowing her flower types and color schemes!
Lindsey and Kyle quickly got dressed into her dress/his suit and she wanted to wear a flower crown (and I didn't mind!) made by our flower enthusiast, Lindsey!
Twin Sister Falls
After our shoot at Twin Sister Falls, we hiked back to our cars. Kyle decided to stay in his suit, and per his words, "Most definitely a different experience hiking in nice shoes and a suit" haha but he made it the whole time and it saved time. I would NEVER ask Lindsey to do that though! I loved her dress and didn't want it to snag on anything.
We drove straight to Blue Hen Falls with probably less than an hour of play time around the falls. We were losing sunlight and FAST! Here is my LIVE video at this point:
We all had an idea that maybe, just MAYBE towards the end of the day we would get in the water...and at the very last second, she decided..."Okay, lets do this!!!" SHE GOT IN THE WATER for me and so did Kyle. I can't even describe the excitement. The way the water splashed her face and made her giggle. The way he wiped her face clean and then kissed her was beyond words (Insert googly heart eyes!)
Her dress in the water is seriously so gorgeous and this entire weekend was everything and more! My inspiration came to LIFE thanks to Lindsey and Kyle!!
(SEE WEDDING STYLE PHOTOSHOOT HERE!) <--Still Editing!
....and that was pretty much a wrap, and we packed up and said Goodbye! I probably said Thank you to them way more than needed, but I am so grateful and happy with how everything turned out! Perfect weather, great people, fun adventure!
Sunday August 13th, 2017
Pretty much the boring pack up and leave (but don't want too) day
...and we didn't want too :(
Hoping Nick can come along with me every adventure! It just wouldn't be the same without him
(Some photos and videos uploaded from our cell phones)